Craving
Fruit Brute
Since 1983.
RETRORATING: 11
RETRORATING: 12
RETRORATING: 20

Don't mess
with the bull.
JOIN!!!
Obscure Gaming Legacy Volume 1
Greetings, ladies and gents. I had an epiphany recently, as I've been looking back at my collection of rare and obscure video games, I thought I'd begin writing my own overviews of these games, as well as some that I don't have in my library, but have managed to play nonetheless.

In my first volume I take a long road back into the world of the NES, when I was just a mere three year old that was new to gaming.


Monster Party - 1989


Monster Party was a relatively strange game among those who have played it. You played as a boy named Mark who's just returned from a baseball game when a flying monster named Bert asks him for support in defeating a bunch of other monsters in a surreal and topsy-turvy world. You had to fight a certain amount of bosses in a level in order to obtain a key, which was required for beating it. The bosses that you encounter come in many varieties, from a bubble-spewing plant to a ginormous sphinx that exclaims "Oh boy! Mark soup!"
Game Rating: 7/10
Milon's Secret Castle - 1986


For a lot of third party titles on the NES, this one just left me scratching my head. Milon was the protagonist as you guided him through a castle and shooting bubbles at blocks to make doors and money appear. And on occasion you would need to purchase certain items to help you through the game. It's rather frustrating, but it's still an interesting one to look at, despite its time of release.
Game Rating: 4/10
Phantom Fighter - 1990


I think out of all of the obscure games that I had on my NES, this was the one that I didn't play very much of. You're a kung fu master as you fight a barrage of hopping zombie ghosts through a world of towns. By gathering scrolls, you can use them to purchase a new attack or move.
Game Rating: 6/10
Vice: Project Doom - 1991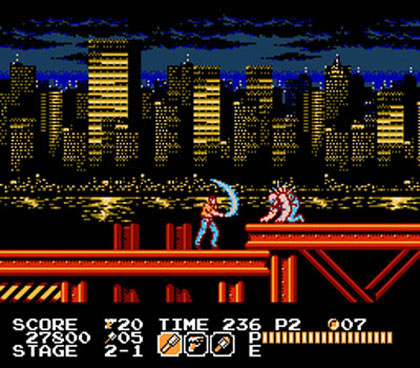 Vice was one of those games that tried going for more than one gameplay mechanic, as it focused on driving, first person shooting, and platforming. You play as a detective named Quen Hart whose job is to investigate a corporation that deals with military weaponry. The platforming in this has quite a lot of action, as it constantly reminded me of Ninja Gaiden, while the driving stages brought Spy Hunter to mind. Not the best action platformer I've played, but intriguing somewhat.
Game Rating: 6/10
Caveman Ughlympics - 1988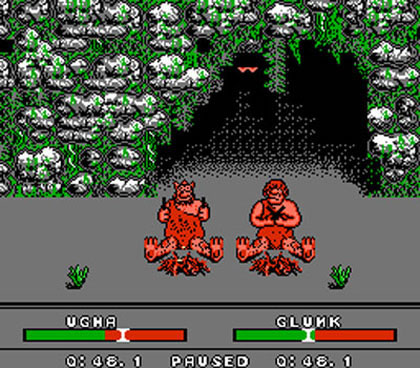 As you can probably guess by the title, this is a parody of Olympic games in the style of the caveman type. In it you could play a handful of different events, such as Firemaking, in which the player competes for rubbing sticks the fastest, or Dino Vault, in which the player has to pole vault over a dinosaur. I wasn't very fond of this one, as it left me with aching thumbs.
Game Rating: 2/10
Fester's Quest - 1989


One of the stranger games in my library, Fester's Quest tells the tale of Uncle Fester from the Addams Family, discovering a U.F.O. in the distance as a slew of aliens invade Earth. The game's a topdown shooter as you play as Fester, overcoming waves of enemies and picking up upgrades for his gun. This game has its charm, but due to constant enemy spawning, it's extremely difficult to go through.
Game Rating: 3/10
Well, that wraps up volume one of Obscure Gaming Legacy. Coming next I'll finish what leftover NES games I played and start with some Sega Genesis titles. See ya then!